Halloween is a community festival celebrated annually on 31 October. Kids and adults wear different costumes of their choice and attend costume parties. Kids go for trick or treating in their neighborhood to collect sweets and candies. In Trick or Treat, kids go to every house one by one and ask the question "Trick or Treat?". The house owners then give them sweets or candies. If a house owner do not give any candies to them then the kids would play some mischievous prank on them.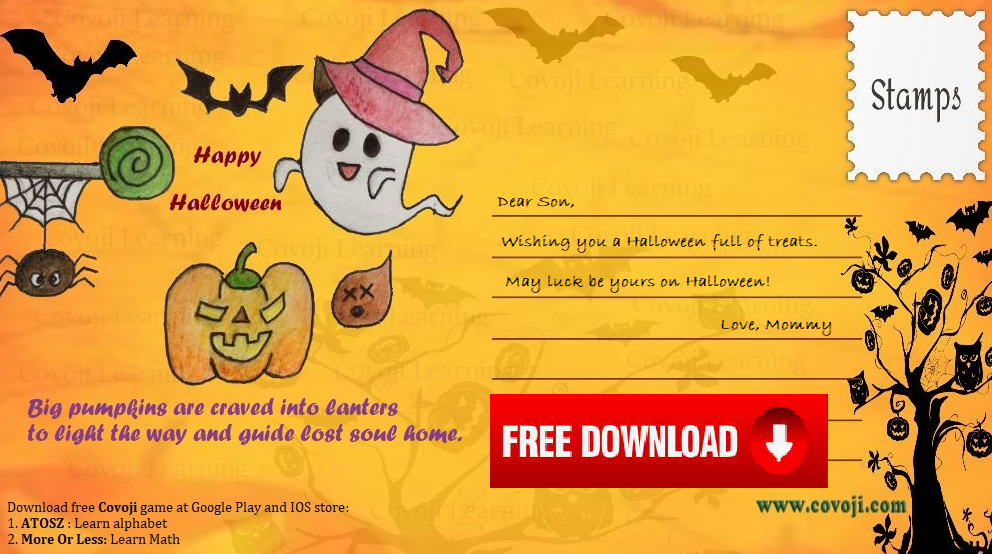 HISTORY OF TRICK OR TREAT
Trick or treat history is usually connected to the old custom of souling. In souling, the poor will go from house to house to beg for soul cakes. In return of the soul cakes the beggars would pray for those member of the family who were recently dead.
HALLOWEEN CARD FOR KIDS
Halloween card is a fun gift for your sons or daughters, nieces or nephews to remind young kids about Halloween tradition. Halloween cards are an entirely unexpected yet fabulous surprise in an envelope for friends, family, co-workers, and anyone who could use a smile. Download our free Halloween postcard and write sweet message to your lovely family, friends or relatives.
Download free postcard at link below: