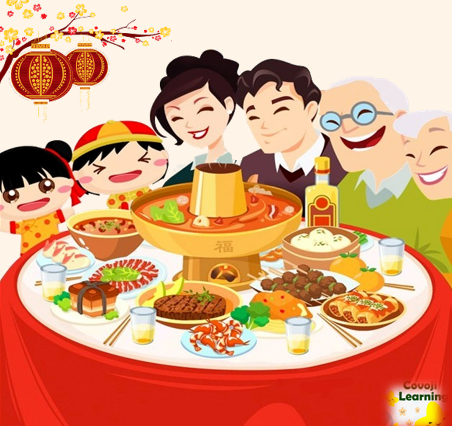 Chinese New Year is a time to head home. It is the best time to spend with family and friends. 
No amount of money or success can take place of time spent with family.
Family reunion dinner falling on New Year Eve,  a savory and royally feast cooked for the occasion. All the family members will make time to go home for the special meal and gathering. On the morning of New Year eve, Chinese family will head on to the market to fresh ingredients that will make a good rhyming sound with prosperity, health, fertility and luck. For example, ingredients like prawns symbolises laughter. A luxurious home-made dinner is served, containing many dishes with not only delicious taste, but also good appearance and auspicious connotations.
Lunar New Year's Eve (Chu Xi in Mandarin) is "the end of the old year". It's a spiritually cleansing time of the year, brush away all off the negative aspects of the last year, and welcome prosperity, happiness, and good fortune into your family.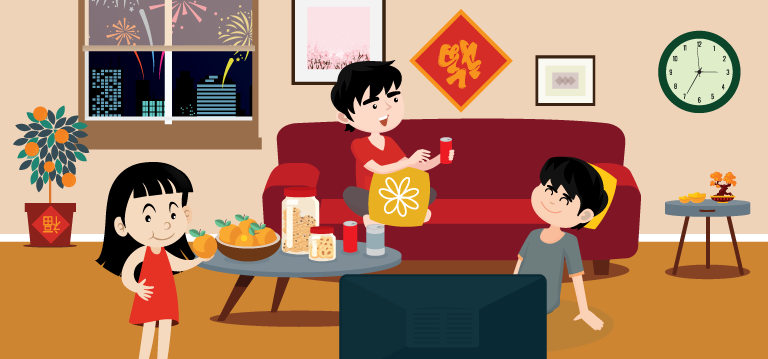 Younger members of the family will stay awake throughout the night after reunion dinner as a blessing of longevity for the elderly. Every light in the house need to keep on the whole night during Chinese New Year Eve. In return, the elderly will give children angpow as known as lucky money. It is merely a goodwill wish from the elderly to keep their children healthy and give them a long life.